 GLORY DAYS IN RIMINI - BRUCE SPRINGSTEEN PARTY
Il fulcro dei Glory Days è L'AMICIZIA.
Amicizia che vedi tra gli artisti sul palco, l'assenza di invidie o gelosie.
L'armonia tra la gente.
La fratellanza dei cori durante il concerto.
I visi illuminati e felici.
Le lacrime di alcuni durante alcuni momenti.
Gli immensi sorrisi...
(Lorenzo Semprini - Glory Days 2007)
GLORY DAYS STORY
I PARTECIPANTI
Acid Queen Duo
Antonello Cacciotto
Enrico Gardini
Luca Casali
Massimo Casta (ex Wild Junkers)
Paolo Ambrosoni
Rdb Band



LE VIE DEL ROCK DEI GLORY DAYS IN RIMINI...
Bahamas
Rock4Fun Bellaria
La Taverna della Pescheria
La Vecchia Pescheria
Saloon City
GLORY DAYS 2013
GLORY DAYS 2013 IN RIMINI
15esima EDIZIONE!

DAL 25/09/13 AL 30/09/13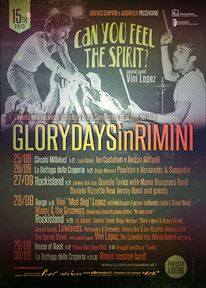 15-esima edizione - "CAN YOU FEEL THE SPIRIT?":
Lorenzo Semprini e Associazione River presentano:
CAN YOU FEEL THE SPIRIT?
Glory Days in Rimini 2013 (15a edizione) . . . . . .since 1999: Bruce Springsteen Party
Special Guest: VINI LOPEZ (Primo batterista della E Street Band)
MERCOLEDI 25 SETTEMBRE
Circolo Milleluci, Rimini centro
h 21 Video live Bridge Benefit '86
h 22 Luca Casali (folk)
h 22,20 Joe Castellani+Alessio Raffaelli (Acoustic Bruce songs)
GIOVEDI 26 SETTEMBRE
La Bottega della Creperia
h 21,30: Diego Mercuri (Bruce covers)
h 22: Powlean (folk revisited) + Hernandez & Sampedro (acoustic jam)
VENERDI 27 SETTEMBRE
Rockisland
h 21,30: Johnny Duk duo (Old dust ballads)
h 22,00: Daniele Tenca with Mama Bluegrass Band (Americana folk-country)
h 23,30: Daniele Rizzetto New Jersey Band and guests (Electric side)
SABATO 28 SETTEMBRE
h 10: "Beach soccer Glory Days" (Bagno 106): La divertente sfida calcistica sulla sabbia tra i fans
h 15,30 (The Barge): Vini "Mad Dog" Lopez: Incontro, racconti, aneddoti ed intervista con il primo batterista della E Street Band
h 17: Miami & the Groovers "No way back" showcase presentazione cd/dvd live
dalle h 20 Rockisland "Can you feel the spirit?":
h 20: Ed Abbiati, Daniele Tenca, Diego Mercuri, Silvia Leprai & Beppe Ardito, Cesare Carugi (Acoustic)
h 21: Lowlands (Americana folk-rock band)
h 22: Hernandez & Sampedro, Johnny Duk & Dan Rizzetto, Antonio Zirilli (Storytellers)
h 23 The Spring Street (House band) with special guests: Vini Lopez, The Essential trio, Davide Balbini(Jersey Devil Band) and more . . . . .
DOMENICA 29 SETTEMBRE
House of rock (Roadhouse), via D. Campana 69 Rimini
h 11 Roadhouse "Open stage" (palco libero a chi vorra' esibirsi in acustico)
h 12,30 Glory Days Brunch (pranzo e musica)
h 14: Omaggio acustico a "Tracks" (in occasione del 15-esimo anno di uscita)
Bonus track:
LUNEDI 30 SETTEMBRE
La bottega della creperia, Rimini centro
Rimini Session Band:
Nashville duo+Lorenzo Semprini+Beppe Ardito+Andrea Amati+guests
(Artisti riminesi per un omaggio a: Bob Dylan, Neil Young, Johnny Cash e Bruce)
Con il patrocinio della Provincia di Rimini.
In collaborazione con: Studio 75, Nene Ecoremode, E20 Romagna, Radio Icaro, Trieste is Rock, PinkCadillacMusic, Light of day foundation